Radio City Music Hall      1980-1984
"Golden Jubilee"
Production celebrating Fifty years of the Radio City Music Hall.


1982
Stage costumes designed for "Golden Jubilee" were used for an ABC Movie of the Week (Behind the Scenes)  starring Gwen Verdon.
1983
Rockette costumes designed for "A Rockette Spectacular"  and "Manhattan Showboat"  were used in the live and film version of Peter Allen's concert.
1981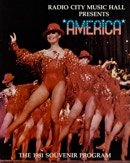 "America"
1981